To commemorate the United States National Guard's birthday on December 13, CAES would like to highlight one of our own CAES faces who currently serves in the US National Guard, SSgt. Matt Sherer, Buyer II, Integrated Defense Systems (IDS) Division, from our Lansdale facility.
National Guard Stats:
Active Years: March 2008 - present
Full Rank: Staff Sergeant
Primary Job: Fixing and maintaining the jet engines that power F16 fighter jets.
Locations: Based out of Atlantic City, New Jersey; have been deployed overseas to Japan, South Korea, Afghanistan and the UAE. Have also done Temporary Duty assignments in California, Tennessee, Texas and Nevada.
Tell us a bit about your time in the National Guard.
I joined the National Guard on March 28, 2008. I had always been interested in the military and had a fascination with aircraft, in particular. When I was 25, while working my way through college, I realized I wanted to make some changes in my life. It seemed like the right time to join and had the added benefit of helping with tuition costs.

Most rewarding moment/accomplishment while serving? 
One rewarding moment would be attending Airman Leadership School in Tennessee. The leadership and interpersonal skills I learned while there still serve me well today in both civilian and military life. 
Another rewarding moment would be my first deployment, which was to Japan. It was the first time I got to experience working alongside the Active Duty Air Force, participate in a military deployment and spend several months in both a completely different culture and a truly beautiful country. 
Tell us about your most recent deployment.  
Image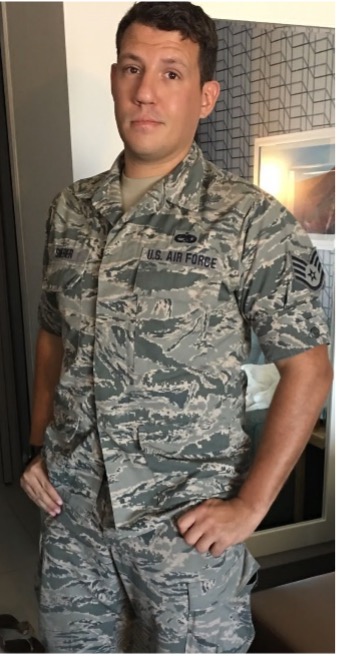 It was, by far, the most challenging deployment of my career. We were the last fighter unit to be based out of Bagram Air Base in Afghanistan, which presented its own unique challenges. COVID was a huge factor, as some individuals in our unit became infected and had to quarantine, resulting in more shifts amongst the remainder of us. Halfway through deployment, we transferred over to Al Dhafra in the UAE; it was steaming hot 24-hours a day!
How did the National Guard influence your career now? What did it teach you and what skills did you take from it?  
The Guard was absolutely instrumental in terms of introducing me to the defense industry. The experience helped me land my first position as a stockroom assistant at Lockheed Martin and eventually, a buyer at CAES, a role that I quickly learned was the perfect fit for me.
As far as take-aways go, The Guard has definitely gave me more self-confidence in terms of problem-solving and seeing tasks through to completion. There's something about having a completely disassembled jet engine and knowing you have to put it back together, or having an F16 waiting for you to finish troubleshooting before it can take off, that teaches you to believe in yourself!
How has CAES been supportive of your role in the National Guard?
CAES has been great with accommodating my military involvement. Many of my "trips" have occurred while I've been employed here; from the HR department helping with policy questions, finance helping with pay issues and the rest of my procurement teammates picking up my slack without complaints, they have been very supportive. Overall, it's been a great experience!
During my most recent deployment, a site-wide collection for a care package was arranged; when it was sent over to us, I was both surprised and humbled. I'm not kidding when I say that many of the folks I was deployed with, when seeing the number of items that were sent, said "wait, your work sent all of that?!"
Now tell us a bit about yourself, what are three words that best describes you and why?
I don't often try to describe myself, so I figured I'd ask my fiancée on this, and she describes me as:
Innovative: I am willing to brainstorm and look at problems from different angles until I find a solution, even if it's an unconventional solution.  
Determined: (Which may also be considered stubborn!) When I want to do something, I will not give up until I accomplish my goal
Dedicated: I give a lot of myself to the things I love: my family, my job, the Guard and my hobbies.
What is one thing you can't live without? 
My pets – I have four cats – but really, animals in general. 
Favorite quote and why? 
"If you've done something right, people won't be sure you've done anything at all." from Futurama. It resonates with me because it's a reminder that you should not do things because you want something in return; it's more important to do the right thing. It also reminds me that a balanced approach to life, or anything you attempt to do, is usually best.
One thing people do not know about you? 
I once won a chicken wing-eating contest in college!
Image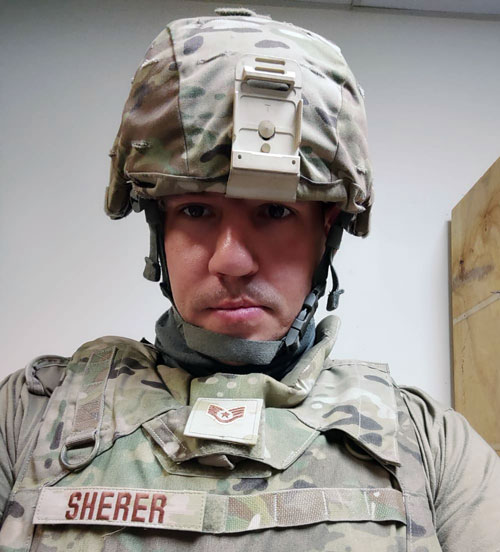 On behalf of all of CAES, we thank you for your service, Matt and honor all of the members of the U.S. National Guard!