Overview
Image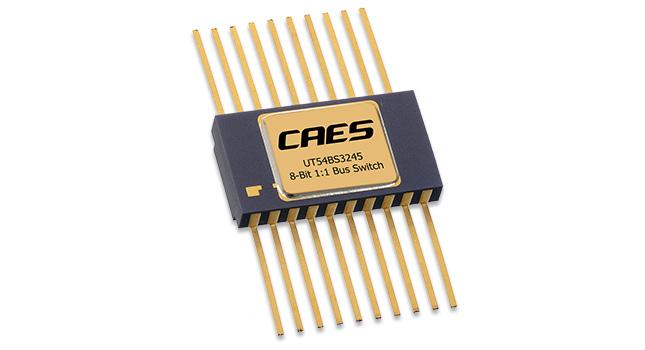 The UT54BS3245 provides 8 bits of high-speed CMOS-compatible bus switching, organized as one 8-bit low impedance switch.
CAES's Bus Switch product family is ideal for high speed, bus isolation applications and provides cold sparing capability to other interfacing products removing the need for actual cold sparing multiplexer inputs.
Key Tech Specs
Features:
8-bit Bus Switch
+3.3V Operating Power Supply with Typical 11Ohm Switch Connection between Ports
+5.0V Operating Power Supply with Typical 5Ohm Switch Connection between Ports
Bidirectional Operation
Ultra-Low Power CMOS Technology
-60dB Signal Isolation
500MHz Channel Bandwidth (3dB)
Applications:
Memory Interface
Bus Isolation
Redundancy
Analog Applications Support
Operational Environment:
Temperature Range: -55°C to +125°C
Total Ionizing Dose: <300 krad (Si)
SEL Immune: ≤100 MeV-cm2/mg
Physical:
20-Lead Ceramic Flatpack 
Xx mil Pitch
Power:
xxW (typical) 
Flight Grade:
QML-Q, QML-V
Export Control Classification Number (ECCN):
9A515.e.2
SMD Number:
5962-15244
ADDITIONAL SPECIFICATIONS
Support
Do you need help with an existing product?
Our customer and technical support teams are happy to assist.