Overview
Image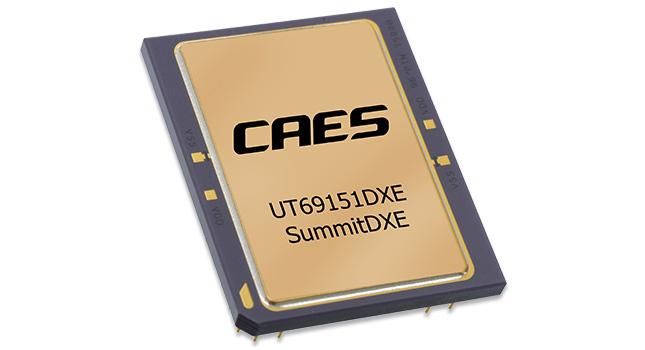 Deriving its name from Serial, µ-coded, Monolithic, Multi-mode, Intelligent, Terminal, the monolithic SµMMIT™ family provides the system designer with an intelligent solution to MIL-STD-1553 multiplexed serial data bus design problems.
Each SµMMIT device is a single-chip that implements all three of the defined MIL-STD-1553 functions - Remote Terminal, Bus Controller, and Monitor. Operating either autonomously or with a tightly coupled host, the SµMMIT devices solve a wide range of MIL-STD-1553 interface problems.
The UT69151 SµMMIT™ DXE contains all the functions of the SµMMIT E device, but offers integrated bus transceivers and associated protocol at +5V operation.
Key Tech Specs
Features:
Comprehensive MIL-STD-1553 dual redundant Bus Controller (BC), Remote Terminal (RT), and Monitor Terminal (MT) with integrated bus transceivers
MIL-STD-1553B, Notice II RT

Internal command illegalization with integrated bus transceivers in the RT mode
16-bit read/write time-tag with user-defined resolution
Subaddress data buffering

Simultaneous RT/MT mode of operation
Flexible BC architecture designed to off-load the host computer

Minor frame timing
Efficient command block flow statements (Branch, Go To, Call)
Status word polling
Programmable retries

Programmable interrupt architecture with automatic interrupt logging available in all modes
Autonomous operation in all three modes of operation making it ideal for low cost remote terminals
Built-In Test capability
Supports IEEE Standard 1149.1 (JTAG)
Radiation-hardened option available
+5 volt only operation
Applications:
Satellite Avionics Communications 
Subsystem Command, Control and Data Acquisition
Battery Electronics Management and Telemetry
Operational Environment:
Temperature Range: -55°C to +125°C
Total Ionizing Dose: 300 krad (Si)
SEL Immune: ≤128 MeV-cm2/mg
Physical:
Flexible Packaging Offering:
96-Pin Pin Grid Array (PGA)
100-Lead Flatpack (RadHard)
Power:
+5W (max)
Flight Grade:
QML-Q, QML-V
Export Control Classification Number (ECCN):
EAR99 
9A515.e.1 (RadHard)
SMD Number:
5962-94663 (link to DLA website)
ADDITIONAL SPECIFICATIONS
Downloads
Application Notes
App-Note-UT69151-Summit-Family-Reset.pdf
App-Note-UT69151DXE5-Current-Utilization.pdf
ADEPT Notifications
SPO-2015-PA-0001
The objective of this product advisory is to inform MIL-STD-1553 circuit designers of lessons learned during a residual voltage investigation and to offer some transformer selection recommendations to minimize residual voltage.
SPO-2015-PA-0001A
This amendment adds BTTC as an approved transformer supplier for optimal compatibility with the Cobham 1553 Transceiver. The results of the BTTC compatability study are included. A final recommendation for leakage inductance screening limits is defined.
SPO-2013-PCN-0006
SEE Limits Clarification to device types 04.
Support
Do you need help with an existing product?
Our customer and technical support teams are happy to assist.