Overview
Image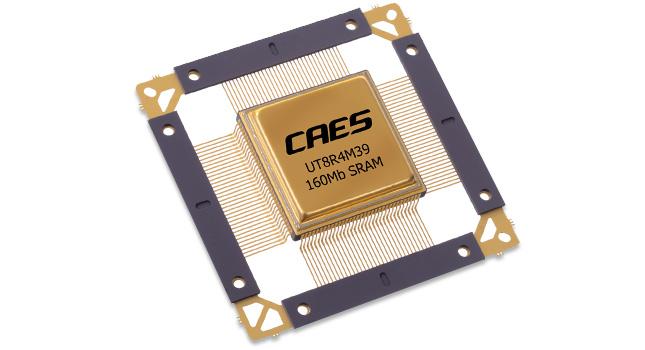 The UT8R4M39 is a 160Mb, radiation hardened by design, high performance CMOS static RAM multichip module (MCM) that is functionally compatible with traditional 4Mx39 SRAM devices.
The device has a power-down feature that reduces power consumption by more than 90% when deselected, offered in a single package solution, and has superior SEU performance. Ideal for code execution in high performance microprocessors, microcontrollers and FPGAs.
Key Tech Specs
Features:
160Mb, 4M x 39
Asynchronous Interface
External EDAC Support
20ns Read, 10ns Write Access Time
Functionally compatible with traditional 1M x 39 SRAM devices 
CMOS compatible input and output levels
Three-state bidirectional data bus
Supply Voltage: +2.3V to +3.6V (Supply), +1.7V to +2.0V (Core)
Applications:
Microprocessors, microcontrollers, FPGAs
Operational Environment:
Temperature Range:-55°C to +105°C
Total Ionizing Dose:<100 krad (Si)
SEL Immune:≤110 MeV-cm2/mg
SEU Rate:<7.3 x E-7 errors/bit-day
Physical:
132-Pin Side-Brazed Dual Cavity Ceramic Quad Flatpack
Power:
1.3W
Flight Grade:
QML-Q, QML-Q+ 
Export Control Classification Number (ECCN):
9A515.e.1
SMD Number:
ADDITIONAL SPECIFICATIONS
Downloads
Datasheet
Application Notes
App-Note-SRAM-ReadOperations.pdf
IBIS Model
ADEPT Notifications
SPO-2021-PCN-003
Correction to SMD, Figure 2. Terminal Connections UT8R4M39 4MEG x 39-Bit Dual Voltage SRAM MCM
SPO-2020-PA-0006D
Group D Seam Seal failure of microcircuit, memory, digital, CMOS, radiation-hardened, dual-voltage SRAM, Multichip Module
SPO-2015-AL-0001
An internal review determined Total Ionizing Dose (TID) testing bias circuit was limiting current when performing radiation testing to 100 krad(Si) per MIL-STD-883, M1019, Condition A. As a result of this finding, samples from previously delivered wafer.
SPO-2015-PIN-0003
Product Information Notice is to inform the industry about the CAES SRAMs low power read architecture.
SPO-2013-PIN-0002
Burn-in temperature reduction informational notice.
Support
Do you need help with an existing product?
Our customer and technical support teams are happy to assist.