Overview
Image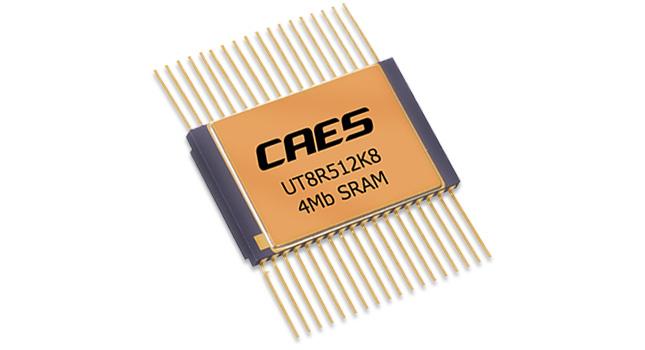 CAES memory products are for your applications requiring the highest reliability in extreme environments.
The UT8R512K8 is a 4Mb, high performance CMOS static RAM. This device has a power-down feature that reduces power consumption by more than 90% when deselected and well suited for fault tolerant designs for low earth orbits.
Key Tech Specs
Features:
4Mb, 512K x 8
15ns Maximum Access Time
Asynchronous Operation 
Compatible with Industry Standard 512K x 8 SRAMs 
TTL Compatible Inputs and Output Levels
Three-State Bidirectional Data Bus
+3.3V I/O Voltage, +1.8V Core Voltage
Applications:
Ideal for fault tolerant designs for low earth orbits
Operational Environment:
Temperature Range:-55°C to +125°C
Total Ionizing Dose:<100 krad (Si)
SEL Immune:≤100 MeV-cm2/mg
SEU Rate:<8.9 x E-10 errors/bit-day
Physical:
36-Pin Ceramic Flatpack
Power:
1.2W 
Flight Grade:
QML-Q, QML-V
Export Control Classification Number (ECCN):
9A515.e.1
SMD Number:
ADDITIONAL SPECIFICATIONS
Downloads
Datasheet
Application Notes
App-Note-SRAM-ReadOperations.pdf
IBIS Model
ADEPT Notifications
SPO-2015-PIN-0003
Product Information Notice is to inform the industry about the CAES SRAMs low power read architecture
SPO-2018-PIN-0003
SMD/Datasheet corrections to include missing AC timing specs and edir VDD and VIO absolute max rating
SPO-2020-D-0002
Product discontinuance notice to announce the end of life (EOL) 300krad TID parts for SMD numbers 04227, 03235, and 03236
Support
Do you need help with an existing product?
Our customer and technical support teams are happy to assist.