Overview
Image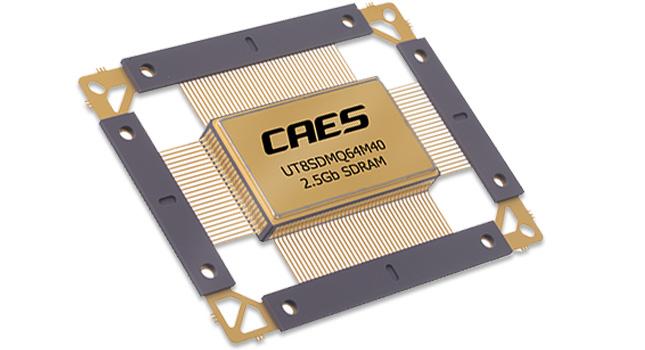 CAES has an extensive memory portfolio developed to handle the demands of harsh space and terrestrial environments.
The UT8SDMQ64M40 is a high performance, highly integrated Synchronous Dynamic Random Access Memory (SDRAM) multi-chip module (MCM). The device is 2.5Gb in density and organized as 64Mx40 (16M x 40 x 4 banks). Read and write accesses to the DRAM are burst oriented; an auto-refresh mode is provided, along with a power-saving, power-down mode. Ideal for fault tolerant systems.
Key Tech Specs
Features:

2.5Gb, 64Mx40 (16Meg x 40 x 4 banks) 

100MHz Maximum Frequency

LVTTL Compatible with Multiplexed Address 

Fully Synchronous 

Internal Pipelined Operation 

Programmable Burst Lengths of 1,2,4,8, or Full Page 

Auto-Precharge includes Concurrent Auto Precharge and Autorefresh Mode 

32ms, 8,192-cycle refresh

Single +3.3V Power Supply

Applications:

Ideal for LEON Processors (UT700, GR712)

Operational Environment:

Temperature Range: -40°C to +105°C

Total Ionizing Dose: <100 krad (Si)

SEL Immune: ≤111 MeV-cm2/mg

SEU Rate: <1.3 x E-10 errors/bit-day
Physical:

128-Pin Ceramic Quad Flatpack

Power:

4.0W

Flight Grade:

QML-Q, QML-Q+

Export Control Classification Number (ECCN):

9A515.e.1

SMD Number:
ADDITIONAL SPECIFICATIONS
Support
Do you need help with an existing product?
Our customer and technical support teams are happy to assist.