Overview
Image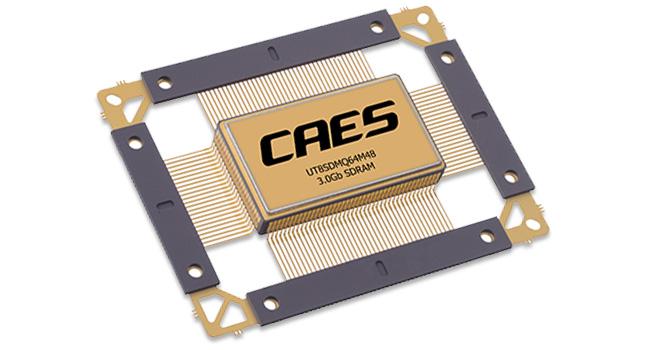 CAES has an extensive memory portfolio developed to handle the demands of harsh space and terrestrial environments.
The UT8SDMQ64M48 is a high performance, highly integrated Synchronous Dynamic Random Access Memory (SDRAM) multi-chip module (MCM).  The device is 3.0Gb in density and organized as 64Mx48 (16M x 48 x 4 banks). Read and write accesses to the DRAM are burst oriented; an auto-refresh mode is provided, along with a power-saving, power-down mode. Ideal for fault tolerant systems.
Key Tech Specs
Features:

3.0Gb, 64Mx48 (16Meg x 48 x 4 banks) 

100MHz Maximum Frequency

LVTTL Compatible with Multiplexed Address 

Fully Synchronous 

Internal Pipelined Operation 

Programmable Burst Lengths of 1,2,4,8, or Full Page 

Auto-Precharge includes Concurrent Auto Precharge and Autorefresh Mode 

32ms, 8,192-cycle refresh

Single +3.3V Power Supply 

Applications:

Ideal for fault tolerant designs in harsh space environments
Operational Environment

Temperature Range: -40°C to +105°C

Total Ionizing Dose: <1 Mrad (Si)

SEL Immune: ≤100 MeV-cm2/mg

SEU Threshold: <85 MeV-cm2/mg

Physical:

68-Pin Ceramic Flatpack; 68-Pin Pin Grid Array

Power:

2.0W

Flight Grade:

QML-Q, QML-V

Export Control Classification Number (ECCN):

9A515.e.2

SMD Number:
ADDITIONAL SPECIFICATIONS
Downloads
ECAD Models
Use the link(s) below to view the ECAD Model for this product.
Support
Do you need help with an existing product?
Our customer and technical support teams are happy to assist.