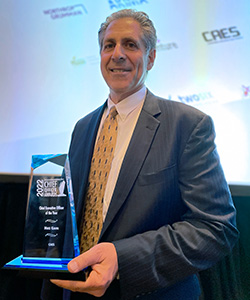 On Wednesday, May 11, WashingtonExec named CAES' Mike Kahn Chief Executive Officer of the Year in the private company with greater than $1B revenue category at their award ceremony in Tysons Corner, VA. WashingtonExec is a private membership organization that hosts the Chief Executive Awards, an annual luncheon honoring the top government and contracting executives.
Kahn was a finalist in the category with CEOs from Deloitte, Guidehouse, Akima and Constellis.
"For me, it is such a pleasure to work with so many talented and dedicated people at the company and with our many customers on helping make today a success, and being best prepared for the challenges ahead," stated Mr. Kahn when asked about the award. "I see this recognition more about what we have accomplished together, and where we are headed."
"Across CAES, we have made great strides in operational excellence, investing in new/needed technologies, and being a partner of choice, that our future outlook is very exciting. I am very appreciative of our dedicated workforce, and equally committed to their success, enabling new career opportunities and growth, levels of engagement that bring out the best in our team and a sense of pride and teamwork that stands out in industry."
Mike Kahn was named President and CEO of CAES in October 2020 after the company was acquired by Advent International and separated from parent company, Cobham. Since then, Kahn has led CAES through major changes including establishing a new leadership team, creating a board of directors with decades of aerospace and defense experience and aligning the business division to focus on customer needs and growth.
We here at CAES are true pioneers in our field, and it is great
to see our industry recognizes that. – Mike Kahn

Kahn was nominated for the CEO of the Year award for successfully leading the company through a complete rebranding, a successful acquisition, establishing industry partnerships and surpassing $1B in revenue – all in 2021!
Congratulations to Mike Kahn, CAES CEO for being selected the WashingtonExec CEO of the Year!

* Photos courtesy of WashingtonExec