Overview
Image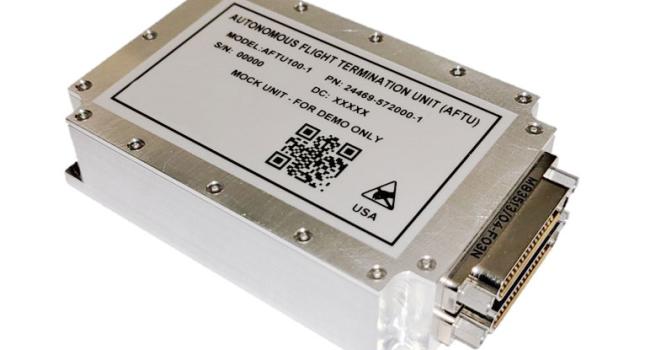 AFTU
Autonomous Flight Termination Unit
The Autonomous Flight Termination Unit (AFTU) is a fully configurable termination unit which employs the latest software, technologies, and manufacturing processes providing a high performance, highly reliable, long-life product. The AFTU is fully compliant to all applicable RCC 319-19 specifications, without exception. The AFTU has no single-point failure and is remotely accessible for configuration and status monitoring.
The AFTU includes five customizable I/O banks with hardware or software cross-strapping providing maximum flexibility for every platform. Leveraging& decades of qualified flight termination, instrumentation, and range safety experience, the CAES AFTU is an extremely low SWAP unit, capable of handling the harshest operational environments.
Key Tech Specs
SWAP
3.3" x 2.2" x 0.785" w/o connectors
3.585" x 2.2" x 0.785" w/connectors
Approx. 6 oz.
3W @ 28VDC
DC Characteristics / Protection
Input Voltage: +22 Vdc to +36 Vdc;±45Vdc over voltage protected
Input Power: 3.5 W typical
Telemetry Outputs: ±45 Vdc over voltage protected
Electrical
Reverse polarity protection
18 - 36VDC
Active High / Low TERMINATE
Overvoltage Protected +/- 45VDC
Interfaces
Five (5) available I/O banks

Each bank can support one (1) of the following:

Two (2) 3.3V logic level devices
Two (2) RS-232 devices
One (1) RS-422 device

10/100 Ethernet
Environments (Design)
MIL-STD-810
EMI MIL-STD-461F
Environments (Model)
Acceleration: 275 G
Random Vibration: 72.8 GRMS
Pyro Shock: 9500 G @ 10,000 Hz
Temperature, Standard Operating: -40C to +80C Ambient
Highlights
Key Features
RCC319-19 Function and Design Compliant
Internal Temperature, Current, and Voltage Monitors
Remotely Accessible Configuration Interface (Read / Write)
No Single Point Failure Inducing Inadvertent TERMINATE
Customizable Interfaces and Mission
Support
Do you need help with an existing product?
Our customer and technical support teams are happy to assist.