Overview
Image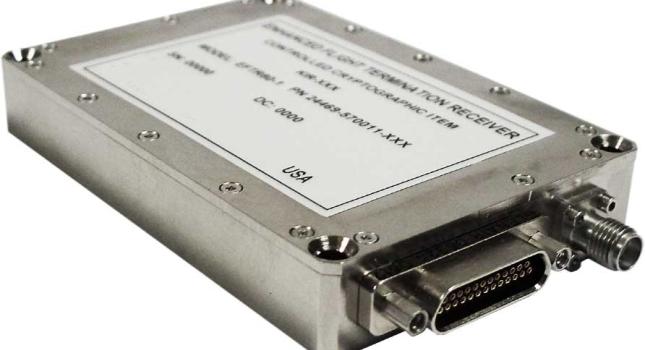 EFTR80-1
Enhanced Flight Termination Receiver (EFTR)
The EFTR80-1 Enhanced Flight Termination Receiver (EFTR) the next generation in flight termination receivers that provides superior mission security over legacy FTRs. The EFTR80-1 is an EFTS (Enhanced Flight Termination System) compatible unit designed for Missile, Space Launch, Unmanned Aerial Vehicle (UAV) and Target applications. It is designed for minimum size, weight, and power (SWAP).
The EFTR80-1 utilizes a digital receiver which demodulates a CPFSK signal and decrypts the EFTS messages using the Triple Data Encryption Standard (TDES). This unit meets the requirements of both RCC 319-14 and RCC 325-11. The EFTR80-1 is intended for programs and applications with stringent environmental, EMI, and reliability requirements.
Key Tech Specs
RF Characteristics
Impedance: 50 ohms nominal
VSWR: Less than 2:1
Frequency Range: 420 MHz to450 MHz
Dynamic Range: -107 dBm to +13dBm
Maximum RF input power without damage: +25 dBm
Tuning Accuracy: +/- 0.005%
Threshold Sensitivity: -107 dBm to-116 dBm
Operating Bandwidth: +/- 35 kHz
Deviation Sensitivity: +/- 50 kHz
IF Bandwidth: 3dB @ +/- 90 kHz
Selectivity: 60 dB @+/- 180 kHz
Image Rejection: > 60 dB
Capture Ratio: > 0.8
Decoding Characteristics
FM Demodulation: CPFSK
Data Format: Manchester encoded
Data Rate: 50 Hz Message Rate,7200 bits/sec
Acquisition Time: 60 ms typ. (100ms max)
Command Response Time: < 1 ms
Output Functions
Configuration/Status: Serial RS-232
User Defined: Serial RS-232
Discrete Telemetry: Check Channel, Failsafe Enable, Pulsed Command Valid
SSTO (Signal Strength): No RF0.5Vdc± 0.25Vdc, increasing to 4.5Vdc minimum at -60 to-50dBm input, Maximum voltage; 4.75Vdc ± 0.25Vdc
RSTO (Receiver Status): 10 report states, 0 to 4.5 Vdc in 0.5V steps
Command Outputs: (Constant-Voltage) < 3.5 V Drop - Monitor,Optional, Arm, Terminate, 2A max,< 4 V Drop - Terminate 7.5A max for a 50ms pulse
Failsafe Functions: Loss of command link time and low voltage threshold levels (Failsafe functions are program configurable)
Cross Strap: Redundant FTR FSI to FSO Cross Strap RCC 319-14 logic compliant
DC Characteristics / Protection
Input Voltage: +22 Vdc to +36 Vdc;±45Vdc over voltage protected
Input Power: 3.5 W typical
Telemetry Outputs: ±45 Vdc over voltage protected
Environmental
Temperature, Operating (ATP):-40°C to +71°C standard
Temperature, Operating (QUAL):-54°C to +85°C
Random Vibration (ATP): Up to 12grms, 20 Hz to 2 KHz
Random Vibration (QUAL): Up to 29.7 grms, 10 Hz to 2 KHz
Temperature, Storage (QUAL):-54°C to +95°C
Shock (QUAL): 30 g's, 11 msecs, half-sine
Altitude (QUAL): unlimited, test to0.0001 torr pressure
Humidity(QUAL): 85% to 100%RH, +30°C to +61°C
Acceleration(QUAL): Up to 125 g's, ±3 axes
Reliability
Derating: meets RCC 319, APPENDIX C guidelines
Reliability: > 0.999 at a 95%confidence level
Single Point Failure: no inadvertent Terminate output EFTR80-1 Specifications
Physical / Connectors
Dimensions: 3.3 X 2.2 X .5 inches(8.4 X 5.6 X 1.3 CM), less connectors
Weight: 5 ounces maximum
RF Input (J1): MIL-C-39012/60equivalent
Data I/O (J2): M83513/04 (MDM-25 position, socket)
Fill I/O (J3): MNSO-09-WD (nano, 9position, socket)
RFI / EMI
MIL-STD-461F: for 28 V aircraft,safety critical equipment, methods;CE102, CE106, CS101, CS103,CS104, CS105, CS114, CS115,CS116, RE102, RE103 and RS103
Factory Set Options
SSTO Return: Isolated from DC input return
Terminate Constant-Current: 5.25A to 8.25 A for a 50 ms pulse
Highlights
Features
EFTS (Enhanced Flight Termination System) compatible
Embedded Triple Data Encryption Standard (TDES)
MIL-STD-461 and RCC compliant
Frequency range 420 to 450 MHz
High sensitivity receiver, -115 dBm (typical)
Forward error correction
Small, less than 3.7 cubic inches
Lightweight, 5 ounces maximum
Stores up to 32 user definable configurations as defined by EFTR specifications
All solid-state design
Designed for extreme environments
Support
Do you need help with an existing product?
Our customer and technical support teams are happy to assist.