Overview
Image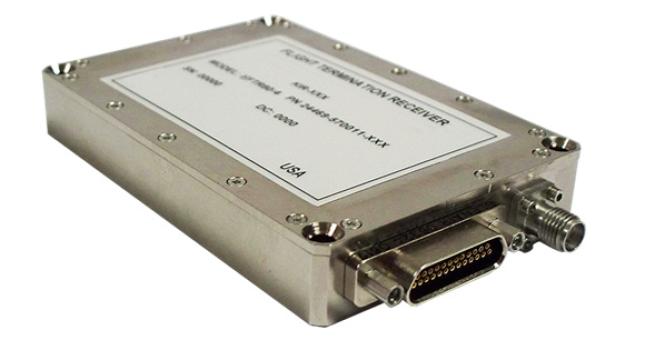 HFTR60-3
Digital Tone-Based Flight Termination Receiver/Decoder
The HFTR60-3 is the next generation programmable, digital Flight Termination Receiver (FTR) that uses advanced Digital Signal Processing (DSP) techniques to process standard IRIG tones. The HFTR60-3 is functionally compliant and qualified to RCC319-14 and is a form, fit and function replacement for legacy Flight Termination System (FTS) configurations using tone-based flight termination receivers.
The HFTR60-3 is a compact unit, capable of handling the harshest environments and is qualified to meet military operational environments and EMI. The HFTR60-3 employs the latest technologies and manufacturing processes to provide a high performance, highly reliable, stable, and long-life product.
Key Tech Specs
Electrical
Frequency Range: 420 to 450 MHz (factory preset to customer specified frequency)
Impedance: 50 ohms nominal
VSWR: Less than 2:1
Reverse Polarity Protection: Built-in
DC Input Voltage: +22 to +36 Vdc, ±45Vdc over voltage protected
Unit Power: 4.5 W max.
Low Voltage Sense: isolated input
Telemetry Outputs: signal strength, 3 or 4 tone monitors failsafe, ±45 Vdc over voltage protected
Command Outputs: 4 solid-state outputs
Command Outputs, Voltage Drop Under Load: Terminate, ARM, MONITOR, OPTIONAL:2 Vdc maximum at 1 amp, 3.5Vdc maximum at 2 amps, TERMINATE: 4Vdc maximum at 7.5 amps, 100 msec
Output Leakage Current: 50 microamps maximum
Isolated Returns: Signal strength output isolated from DC return and chassis ground
RFI/EMI: Meets MIL-STD-461F, tests; CE102, CE106, CS101, CS103, CS104, CS105, CS114, CS115, CS116, RE102 and RS103
Physical
Size: 3.3 X 2.2 X .5 inches (8.4 X 5.6 X 1.3 cm), less connectors
Weight: 5 ounces maximum
Antenna Connector (J1): RF input SMA - Female
Power and Signal Connector (J2): 25-pin micro-D socket M83513/04-D05N
Environmental*
Random Vibration (ATP): 0.04 g2/Hz (6.1 grms)
Random Vibration (Qual): 29.7 grms
Temperature, Operating (ATP): 40°C TO +71°C standard
Temperature, Operating (Qual): 54°C TO +85°C
Temperature, Storage (Qual): 62°C TO +95°C
Shock (Qual): 1300g SRS
Altitude (Qual): 15,000 ft
Humidity (Qual): 95%
Acceleration (Qual): Up to 125 g'S
* As of this date
Highlights
Features
RCC 319-14 Functionally Compliant
Programmable frequency 420-450 MHz
Programmable 3 or 4 tone channels
Capable of storing up to 32 factory or field programmed configurations
All solid-state design
High sensitivity receiver
Small, less than 3.7 cubic inches
Lightweight, less than 5 ounces
No RF/IF tuning elements
Reverse polarity power protection
Telemetry output protection
Designed for extreme environments
Operating temperature to -54° and +85°
Options
406 to 420 MHz band
No failsafe, Standard failsafe, Commanded failsafe
Common returns: Signal strength and DC returns
All returns connected to chassis
Nominal IF Bandwidth Audio output: 7 kHz to 32 kHz, 155mV to 310mV RMS
Extended audio bandwidth available to 45 kHz
J2 Pin 11 Low Voltage Telemetry Output (LVTM)
Supports constant current terminate output
Support
Do you need help with an existing product?
Our customer and technical support teams are happy to assist.