Overview
Image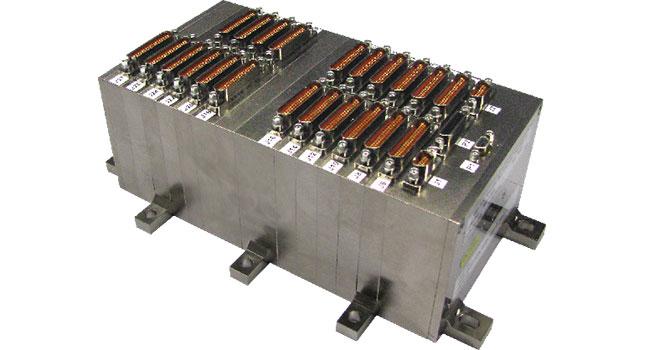 PCM890
Data Acquisition & PCM Encoding
The PCM890 System is the next generation of the highly successful PCM880 series of data acquisition systems. The PCM890 is used for instrumenting missiles, airborne vehicles, and other platforms requiring a small volume ruggedized PCM encoder. The PCM890 is the premier system for acquiring, signal conditioning, and encoding all types of signals. Versatility, flexibility, and ease-of-use are paramount in this system's hardware and software design.
The PCM890 System microprocessor scans the installed hardware, compares it to the user format, and reports discrepancies through the system software.
The PCM890 System housings are designed to provide maximum accuracy of test results in the most severe environments. All housings are environmentally sealed with EMI/RFI shielding and gasketing and meet MIL-STD-810E requirements.
The PCM890 System is designed to work as a stand-alone encoder or in a Master/Slave configuration.
Key Tech Specs
System Specifications
Configuration: Base Module with up to 10 Data Modules per Master or Slave system.
Set-up and Control: Programmed and controlled via RS-232 serial link to a computer with Windows-based software
PCM Bit Rate: Programmable selection of internal or external clock. Internal clock is programmable from 1 kbps to 40 Mbps for NRZ-L and RNRZ-L codes.
PCM Frame Size: Minor frames of up to 4096 words. Major frames with up to 256 minor frames, or up to 65,536 total words.
PCM Word Size: Individually programmable word lengths from 4 to 16 bits (including optional parity bit)
PCM Word Order: Programmable for MSB or LSB first
PCM Word Types: Individually programmable for normal, super, sub, or random commutation
PCM Word Parity: Programmable as odd, even, or off
PCM Frame Synchronization: Programmable from 16 to 33 bits
PCM Minor Frame Synchronization: Programmable for frame code complement or subframe ID using one or two programmable subframe counters
PCM Conditioned Output: PCM output is pre-modulation conditioned to reduce harmonics and is programmable from 0.3 to 3.0 Vpp into a 50 ohm load, or 0.6 to 6.0 Vpp into load of 1,000 ohms or more. PCM output is 50 ohm driven.
PCM Output Codes: Conditioned and TTL outputs are independently programmable to the following PCM codes: Non-re-turn to zero - NRZ-L Randomized NRZ - RNRZ-L Bi-phase - BiØ-L, BiØ-M, BiØ-S Differential bi-phase - DBiØ-M, DBiØ-S Delay modulation - DM-M, DM-S
PCM TTL Output: TTL driven PCM output with Bit Clock for direct input to a decommutator frame synchronizer
Environmental
Operating Temperature Range: Standard: -30°C to +70°C Ex-tended: -40°C to +85°C Qualification: -54°C to +85°C
Vibration: MIL-STD-810E: Method 514.4 Random: 10 to 2000 Hz at 34.4 g's RMS Sine: 5 to 2000 Hz at 10 g's RMS Three orthogonal axes, 20 seconds per axis
Shock: MIL-STD-810E; Method 516.4, Procedure I - Function-al Shock Test for Flight Test Equipment. 1200 g's peak 10 to 5000 Hz Three shocks in each direction of three orthogonal axes both positive and negative for a total of 18 shocks
Altitude: Unlimited
Salt Fog: MIL-STD-810E; Method 509.3. Expose 48 hours at 35°C
Humidity: MIL-STD-810E; Method 507.1. Procedure 1Expose 240 hours at 85% minimum humidity from +30°C to +65°C
Power: MIL-STD-704E; Paragraph 5.3. (40 V DC max. input)
Power Requirements: DC to DC converter power supplies are available in two input voltage ranges. Standard Range: 22 to 36 volts DC Optional Wide Range: 12 to 36 volts DC
EMI/RFI: MIL-STD-461C; Requirements CE03, CE07, CS06, RS02 MIL-STD-461E; Requirements CS101, CS114
Acceleration: MIL-STD-810D; Method 513.3, Procedure II 225 g's, 5 minutes
Highlights
Key Features
Fully Programmable Master/Slave Operation to 40Mbps
Variable word lengths of 4 to 16 BPW
Tracking Pre-Modulation Filtered and Selected Word Output
8 Selectable Stored Formats
Embedded Encryption optional
Real-Time Data Monitor
Fully Programmable Signal Conditioning of Analog, Digital and Avionics Bus Data
Standard +/- 1.0% Accuracy
Support
Do you need help with an existing product?
Our customer and technical support teams are happy to assist.