Overview
Image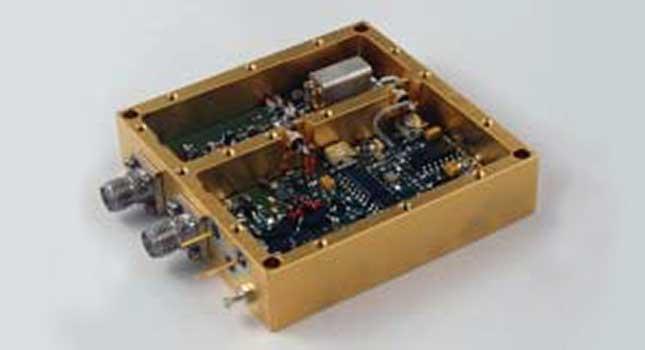 Series PCRO
Phase Locked Coaxial Resonator Oscillators
CAES' series of phase locked coaxial resonator oscillators has been designed for use in commercial and military systems where demanding performance, high reliability and cost are critical.
This family of products take advantage of low phase noise transistors and a metalized high Q coaxial resonator. When phase locked to an external crystal reference, the low noise characteristics of the high Q resonator are enhanced by the long term stability of the external reference.
The series PCRO can be custom configured to meet the demanding electrical performance and environmental requirements for military airborne, radar and communications applications.
Features such as low phase noise, high power, small size and low cost make CAES' PCRO product line the best value on the market today.
Contact the factory to discuss your special requirements.
Key Tech Specs
Typical Performance Specifications
Fixed frequencies from 300 MHz to 3 GHz
Output power +15 dBm standard
Power variation ±2 dBm
Output impedance 50 ohms
Load VSWR 1.5:1
Output impedance 50 ohms
Spurious -80 dBc
Harmonics -20 dBc
Lock alarm TTL high when locked
Input reference frequency 5 MHz to 100 MHz for single loop models, 1 MHz to 100 MHz for dual loop models
Input reference power level 0 ± 3 dBm
Internal reference models frequency stability ±2.5 ppm standard, ±1 ppm optional
External reference models frequency
Power, Dimensions and Environmental
Supply voltage +12V, +15 V and 8 VDC on select models
Current 300 mA for external reference models, 450 mA steady state, 800 mA surge on internal reference models, 450 mA for dual loop models
Operating temperature -30˚ to 70˚ centigrade
Storage temperature -54˚ to +85˚ centigrade
Highlights
Features
Frequencies from 300 MHz to 3 GHz
Wide operating temperature
Ultra low phase noise
Low power consumption
Phase lockable to references from 1 MHz to 100 MHz
Low Spurious
Low loss high Q circuit
Options
High stability internal reference
Field replaceable connectors
Hermetic seal
Extended temperature ranges
Dual loop models
Support
Do you need help with an existing product?
Our customer and technical support teams are happy to assist.